---
Welcome to Terranova
Terranova is a nostalgic interactive fiction game set in the early 2000's following four fangirls and their roleplay community on LimeJournal.
Follow the lives of Ephemeralsmile, Cherrygoround and Sendaria as you chat them, befriend them, and discover yourself through a rich world of storytelling, love and friendship.
Terranova features...
A nostalgic interface that transports you to a time before Twitter
Three awesome friends you can gush to about your fave pairings that you could NEVER do IRL
Customizable mood icons
Roleplay. Lots and lots of roleplay.
...and more!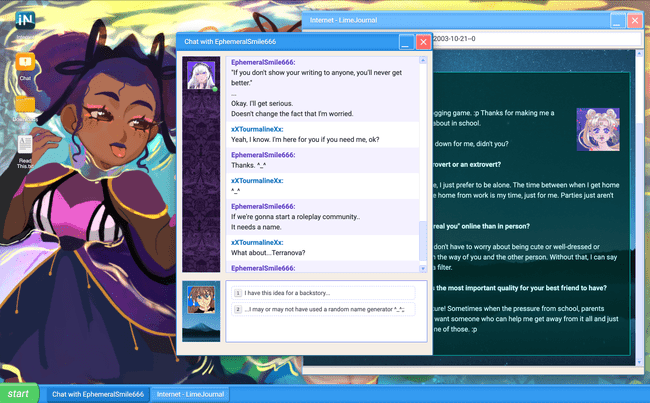 ---
How can I play?
Terranova is currently in open beta. You can get it now on itch.io for the early bird price of $5.00 (which includes access to the full game when its released). The full game will be available on itch.io and Steam in 2022.
---
© 2020-2021, TeamChatt